Första hjälpenutbildning för Svenska kyrkan i Göteborg.

Torsdagen den 28 februari 2013 genomförde Capt(LF) Ulf Eddie Edberg och Cpl(LF) Joakim Stoppenbach en utbildning i grundläggande första hjälpen för anställda i Backa församling. Deltagare i utbildningen var såväl präster som pedagogisk personal och vaktmästare.
Tanken är att en fortsättning med inriktning mot HLR ska genomföras senare.
Efter utbildningen samlades tre frontiersmen på en pub i Göteborg, där Frontiersman Dennis fick sitt medlemscertifikat.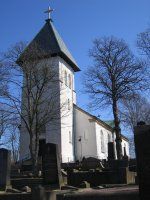 Kyrkan i Backa församling i Göteborg.
(The parish church of Backa in Gothenburg.)





First Aid training for the Church of Sweden in Gothenburg.

On thursday 28 of February 2013, Capt(LF) Ulf Eddie Edberg and Cpl(LF) Joakim Stoppenbach, conducted a training session in basic First Aid with employees of the church of Sweden in Backa parish. Participants in the training were priests, nursery staff and sextons.
The ambition is that a session with CPR-training will be held later.
After the training three frotiersmen gathered at a pub in Gothenburg, where Frontiersman Dennis got his membership certificate.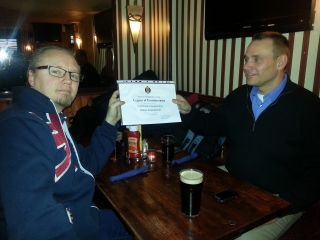 Vår nyaste Frontiersman (Fm) Dennis får sitt medlemscertifikat av Capt(LF) Ulf Eddie Edberg.
(Our newest Frontiersman, Dennis, gets his membership certificate from Capt(LF) Ulf Eddie Edberg.)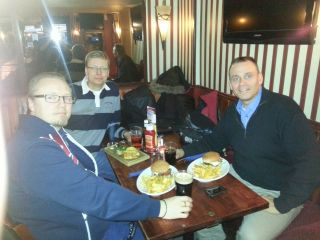 Efter utbildningen samlades tre frontiersmen för en välförtjänt öl och en hamburgare på en pub i Göteborg.
(After the training three frotiersmen gathered at a pub in Gothenburg for a well deserved beer and a hamburger.)